Ma, Pa, & Circling the Wagons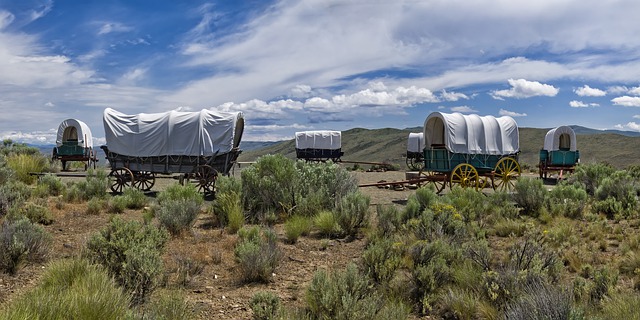 Like many of you, I have converted my dining room table into my work square. My mind wandered this morning as I gazed out the window at an empty street, except for the random dog walker and delivery truck. My general thought is, "This is surreal." Reality quickly sets in as the sound of my 7-year-old having school from home taught by my wife, who is a furloughed dental hygienist, echoes in the background. I then had a little chuckle wondering if I should snap a "before" selfie for future comparison if I am forced to go a significant time without a haircut. My mind went straight to a rescued Tom Hanks in "castaway".
Prior to the pandemic, my daughter had been reading and watching the "Little House on the Prairie" series. The parallels to 2020 are amazing. I think about Pa (Michael Landon's character, Charles) bravely assisting the town doctor and minister during an outbreak of Typhus. You lose track of how many times he drops everything to help a neighbor or uses his resourcefulness to get by with limited resources. I think about Ma (Caroline) grinding her own wheat into flower with small coffee grinder during the "Long Winter" when the supply trains were delayed because of heavy snow. Ma also stepped up to be the community teacher in Walnut Grove when there was none. I think about the kids, Laura and Mary, inspiring other kids at their school to team up to confront a bully. Laura is a good kid that obeys her parents, but also courageously follows her instincts to do what she thinks is right, even if her response is imperfect and she takes on some short-term pain.
Time and time again this group of pioneers "circled the wagons" as a family and community. They battled the elements, plagues, snake-oil salesmen, wolves, and economic hardships. Their can-do spirit never fails to impress. To survive and thrive took family, friends and neighbors. It took merchants, farmers, doctors, and preachers. It took government, private sector, and individuals. It took faith, courage, and creativity. The messages are timeless.
I have been uplifted by stories in our own community. My sense is that most people in our area are sacrificing to respect the social distancing requests. Near our Logan, IA office, local churches are delivering groceries to help the social distancing effort and assist local business. Individuals in Omaha area sewing community are organizing to fabricate masks for a local hospital. Children are doing what they can to uplift spirits by posting their art on windows and chalking the sidewalks. It made me very proud to see the New York Times feature the University of Nebraska Medical Center for their leadership in infectious disease. They are developing testing methods, working on new treatments, and using creativity to UV sanitize the scarce N95 masks. Finally, I was very encouraged to see a long drive through line supporting a new coffee shop that opened this week near our Omaha branch in the Old Mill Neighborhood.
Sherman and I have spent hours reading reports and listening to analyst's conference calls to gain as much perspective as we can on the current market conditions. Here are some of our key takeaways:
· Uncertainty is likely to continue driving market volatility in the near term. Looking out 24 months, analyst optimism is in greater supply.
· Clarity regarding stimulus details, ramping up personal protective equipment delivery to the states, and expanded virus testing should help.
· The markets are forward looking vehicles, meaning they are largely priced based on what is expected to happen in the future with business. The market is already "pricing in" major economic contractions this year.
· The markets and economy are two different things. The markets look to the future while economic data looks at numbers from the past. Analysts note that by the time economists have collected past data and confirmed things like a recession, the markets can be well on their way to recovery.
· Missing the best days in the markets can have a profound impact on investors long term performance. Historically many of the best days have followed some of the worst.
· Recessions are difficult, but periods of expansion are powerful.
· Tune out the noise. Focus on your principals and goals, not predictions. Avoid emotional decision making.
Buying low feels terrible, but it makes sense. It's not critical to invest at the absolute bottom to be successful over the long term. Predicting the bottom is impossible. We will only recognize the bottom by looking back at some point.
· Seek credible news sources. Random posts from Facebook friends with unaccountable information from "reliable sources" can cause unnecessary anxiety. Look to state and local health departments, the CDC, and other official news outlets with reputable journalistic standards to stay informed.
We can't stress enough the importance of responsibly consuming information and considering credibility of sources. Be skeptical and verify. This famous old quote comes to mind:
"It aint what you don't know that gets you into trouble. It's what you know for sure that just aint so."
In the absence of a crystal ball, we do know this continues to be a fluid situation and more volatility is to be expected. Diversified portfolios have seen their percentage of stock allocations reduced and their bond & money markets increased simply by market movements. This may create prudent opportunities for many investors to rebalance accounts. We strongly believe that long term investors should focus on their goals, quality, and diversification. Challenging times like these are a reason we seek to recommend portfolios that our investors can stick with in the good times and the bad. We feel that there will be opportunities for long-term investors with cash on the sidelines to execute a market re-entry plan. Everyone's goals are unique. Let's talk about your plan!
We are proud of you all! This stuff is not easy. We will be here, working harder than ever to benefit our clients. We look forward to visiting with you soon! In the meantime, let's keep moving forward.
......
Vista Wealth Group are financial advisors in Omaha, NE and Logan, IA.
Vista Wealth Group
11235 Davenport St. Ste 109 Omaha, NE 68154 312 E 7th St Logan, IA 51546 (402) 339-4800
Securities offered through J.W. Cole Financial, Inc. (JWC). Member FINRA/SIPC. Advisory services offered through J.W. Cole Advisors (JWCA). Vista Wealth Group and JWC/JWCA are unaffiliated. Non-securities products are not offered through JWC/JWCA. Neither JWC/JWCA or Vista Wealth Group offer tax or legal advice and this information should not be considered as such.
Have you met our team?
We have a wealth of experience in the financial services industry.