Backyard Beaches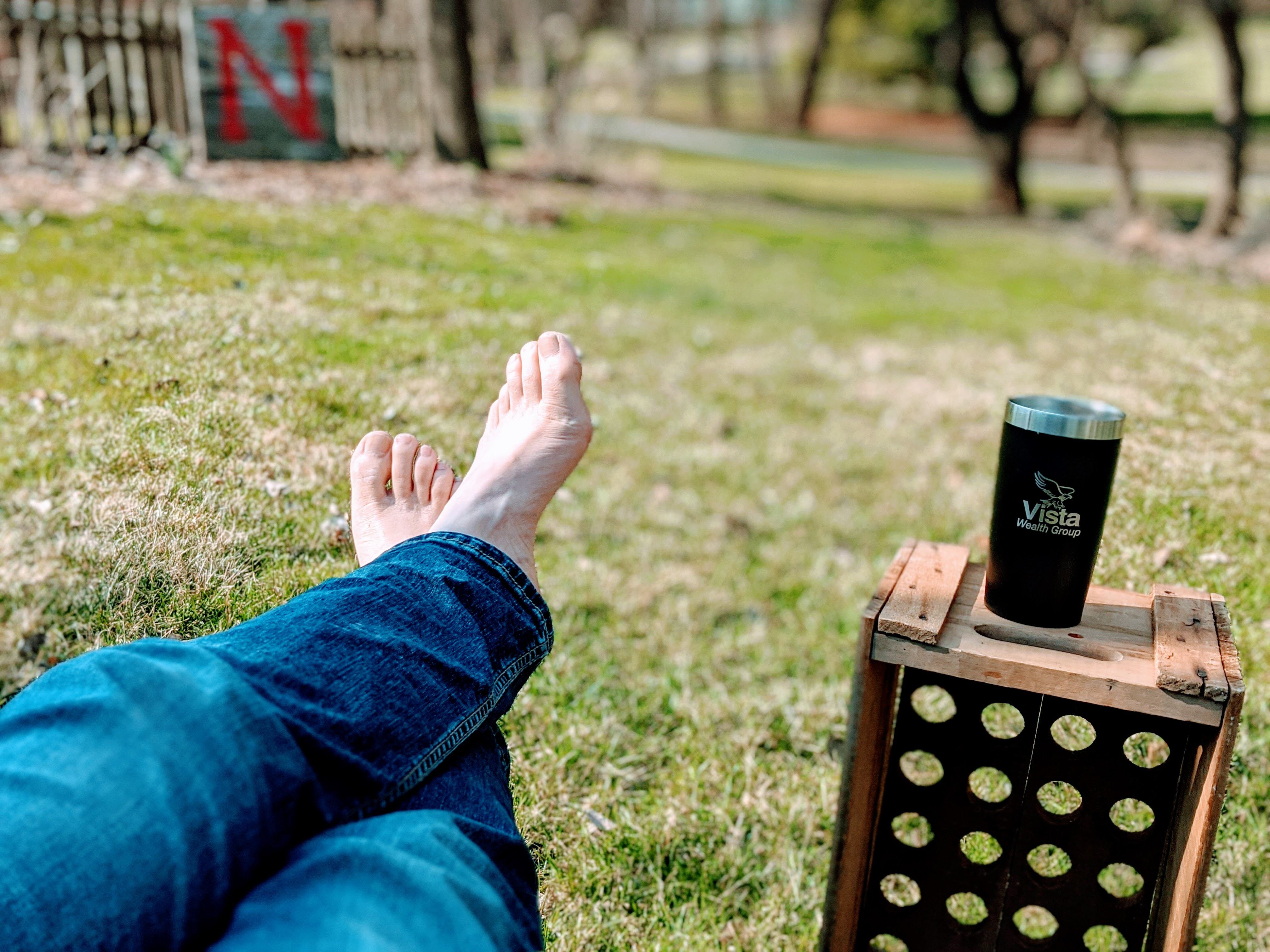 A month ago, if someone asked me how I felt about Corona, my response would have been that I like it best with a lime. My mind can easily conjure images of the laid back, beachy, commercials of the vacationer's propped up feet sitting on the sand beside the lime topped lager. My oh my how the tides have turned.
The hardships we know well. I don't intend to spout a bunch of pie in the sky sunshine, but I'm starting to see a few silver linings. My office, AKA the dining room table, gives me a front row seat to the passing parade on the sidewalk outside. Several times a day, I walk briskly to the front door to chat with a friend or neighbor that's out for a stroll. I feel gratitude for these brief encounters. I also feel more connected to my family than ever before. My sense is that there may not be a better opportunity to instill values in our kids and to forge relationships with others.
Everyone needs to craft their own corner of the new normal and find ways to keep moving forward. Thanks to everyone who's heeding the call to limit contact. Consciously doing nothing is doing something. I've found peace in getting a start on my early spring garden and following the guidance of many contemporary philosophers that advise making the mentality shift from "I CAN'T" to "HOW CAN I?". I find that line of thinking to be empowering. Additionally, I've been getting a lot more exercise lately and watching my diet. This has the two benefits of general well being and making food last longer which reduces the need to visit crowded grocers. I'm trying my best to avoid Covid-19, but if it finds me, I want it to get me at my best. Probably the best thing that's helped me keep moving forward is to set a limit on the amount and type of news I'm consuming. Keeping informed is good, but I can do that once per day vs. making it my obsession. Having some uplifting music on has also helped kick start my attitude!
Now for the markets.
The past few days have been a good reminder that the best days in the market often follow some of the worst. Still, we're not getting too excited about this most recent bounce. There is likely more to unfold in this saga. That said, a reprieve from the March market slide was welcomed!
The enormous 2 trillion-dollar stimulus package appears to have given some serious support to the markets and economy. Checks to individual taxpayers and a beefed-up unemployment insurance benefit have given many confidence that they can meet their essential monthly obligations, at least for the near term. It is yet to be seen how quickly relief can be delivered and how durable these benefits will be if stay at home orders expand or if this crisis lingers longer than we'd like. Further, it will be interesting to see the longer-term fiscal implications of the program's massive cost.
The CARES act has several provisions related to retirement account distributions and RMDs. See more information here.
There are two main schools of thought out there right now. One is that the stimulus package has done enough to stabilize things until we get up and moving again. The other is that there is much more volatility to come and we will likely test the lows again. Try not to get caught up in these short-term predictions with your long-term money. Focusing on the long term (for your long-term goals) has always been a critical part of a sound investment strategy.
This whole thing should serve as a reminder to all investors not to invest your short-term and emergency funds into longer term assets, like stocks, as they are too volatile to rely on for critical near-term needs.
At Vista Wealth Group, we continue to focus on client goals and individual advice. We are trying to maintain perspective and focus on the controllable things. Likely, there will be some nice long-term opportunities to buy solid companies with bright futures at attractive prices. Additionally, we believe that as markets fluctuate, rebalancing portfolios can be a powerful tool for those who are fully invested.
Certainly, this pandemic will have some lasting impacts on our society. Hopefully one of those lasting impacts is a focus on what's most important, people and relationships. To that end, those who can should try to lift up their neighbors. Let's all try to have some realistic optimism and think in terms of "How can I?". Perhaps sooner rather than later, when asked about Corona I will again imagine my feet up in the sand. In the meantime, keep moving forward.
...
Vista Wealth Group are financial advisors in Omaha, NE and Logan, IA focused retirement income planning, building wealth, and insurance planning.
Vista Wealth Group
Eric Jones & Sherman Tegtmeier, Financial Advisors 11235 Davenport St Ste 109 Omaha, NE 68154 (402) 339-4800 312 E 7th St Logan, IA 51546 (712) 644-2710
Securities offered through J.W. Cole Financial, Inc. (JWC). Member FINRA/SIPC. Advisory services offered through J.W. Cole Advisors (JWCA). Vista Wealth Group and JWC/JWCA are unaffiliated entities. Neither Vista Wealth Group or JWC/JWCA offer tax or legal advice and this information should not be considered as such. Non-securities products are not offered through JWC/JWCA.
Have you met our team?
We have a wealth of experience in the financial services industry.